Constructing the High Desert Touring Classical Organ
In the beginning, the plan was not to build an organ, but rather to find a cheap instrument on eBay, one which could be "disposable" if the desert conditions proved too harsh. Initially, I purchased a Gulbransen Premier theater organ. Unfortunately, the instrument was chock full of analog electronics and interconnects, and needed much troubleshooting after even the slightest move. It was this experience that led to the realization that something special would need to be created to suit our exact intentions.
It was decided to start with an empty console, a true AGO (American Guild of Organists) full-size specification, into which we could add the right mixture of off-the-shelf electronics. Again, due to the harsh desert conditions, an internet search was begun for a console no one wanted – we wouldn't want to wreck a thing of beauty.
In fact, here are a few reminders about the harsh desert conditions: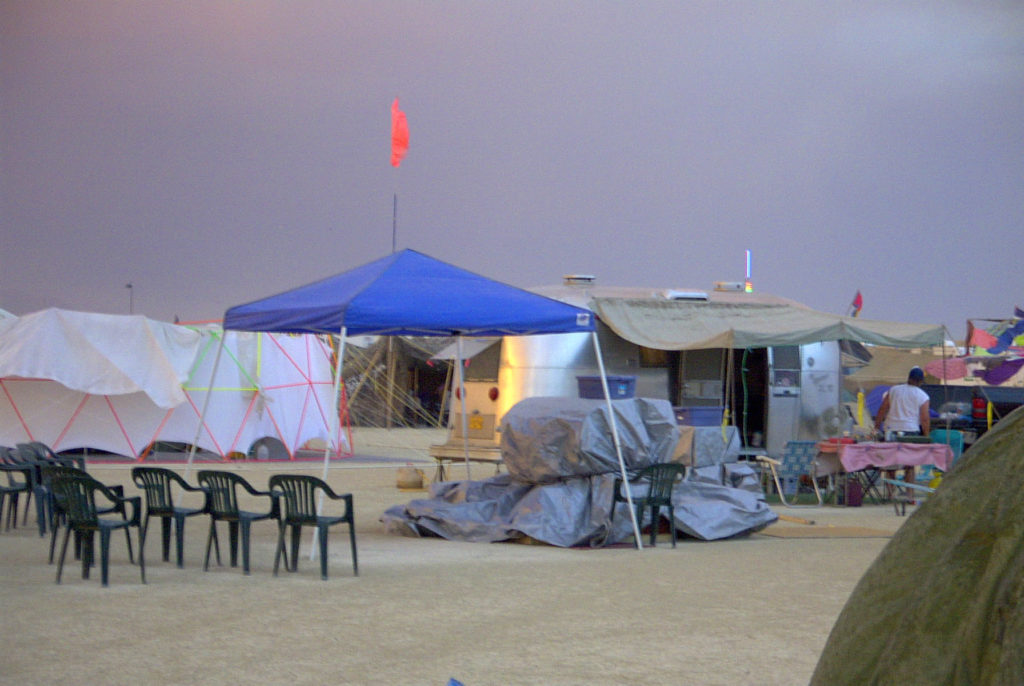 After months of searching, a friendly organ technician in California provided the answer: A disused Schoenstein 2-manual and pedal console – just come and pick it up. The woodwork was beat up pretty badly, but that was OK considering where it would be going. While I was there, I also purchased for a very modest price a pair of used Moller ivory keyboards with the extra springs for a "tracker touch" effect, and some extra stop tab switches for the console.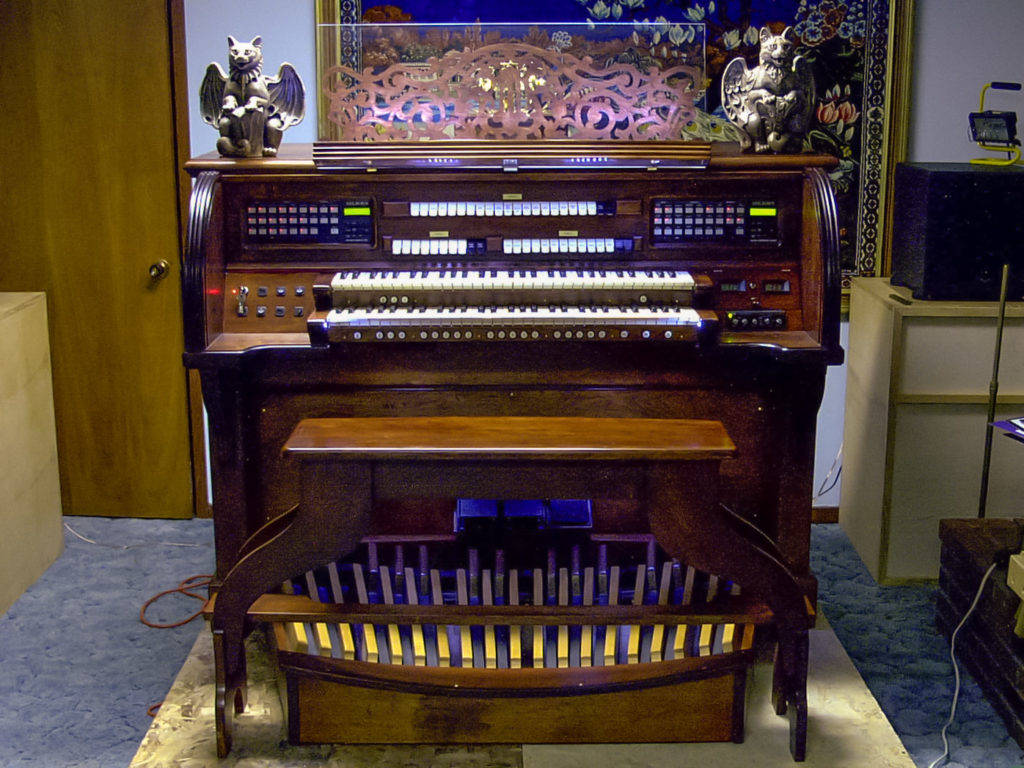 Upon returning home to Oregon, my father remarked that the console appeared to be made of solid Cherry, and a major refinishing project was begun. (Yes, before the desert.) Samples of the original finish were taken and shipped off to a company that specializes in mixing custom dye-based stains. Holes (from additions and changes to the console over the years) and burn scars were repaired and replaced with new wood. The dogleg bench was structurally repaired and matched to the console's finish.
My father Doug's refinishing work was a stunning transformation, including a new music rack made entirely from scratch. The design was inspired by a photograph and extrapolated into the ultimate music rack. Doug also donated a pair of Klipsch LaScala speakers (found as an incredible garage sale bargain) to complete the organ.
In order to fit in all the selected components (see next page), some changes needed to be made to the console. A new front panel was created to accommodate two tab rails and to allow the sound module's controls and lights to be seen (partly for show, and partly for emergency functionality should the stop rail interfaces go off-line (didn't turn out to be a problem.))
Technical Requirements
A list of requirements was drawn up for what would make an ideal High Desert Touring Classical Organ:
A modular approach for the electronics which would allow them to be removed and shipped in protective packaging, as well as (hopefully) the ability to utilize a subset of the organ's capabilities if any major module should fail.

MIDI as the primary control method within the organ for compatibility with anything which may come along later.

The ability to run on battery power – the noise of a gasoline-powered generator could interfere with quieter organ works.

Low power consumption – if the batteries could last for many concerts, no generator would be needed at all.

Full volume – The instrument would have to speak as loud (or at least be perceived to be as loud) as a real pipe organ of equivalent ranks.

Nighttime illumination – The night can be pitch black in the desert… all the lighting in a person's camp must be provided by the campers. The organ had to be fully visible to the audience and (most important) the performer at night. Although Virgil Fox could play complex passages from memory in near-total-darkness, I sure can't.

At least a passing stab at authentic sound. Although just about anything done at Burning Man has a touch of whimsy, serious organ music would be performed here for an audience which may be unexposed to classical organ works, so an attempt must be made to sound like a real organ rather than a cheesy old electronic. (If one is going to spend money, that is…)
Based on these assumptions, after careful research, a few snap decisions, and some trial and error, the following components were selected…